---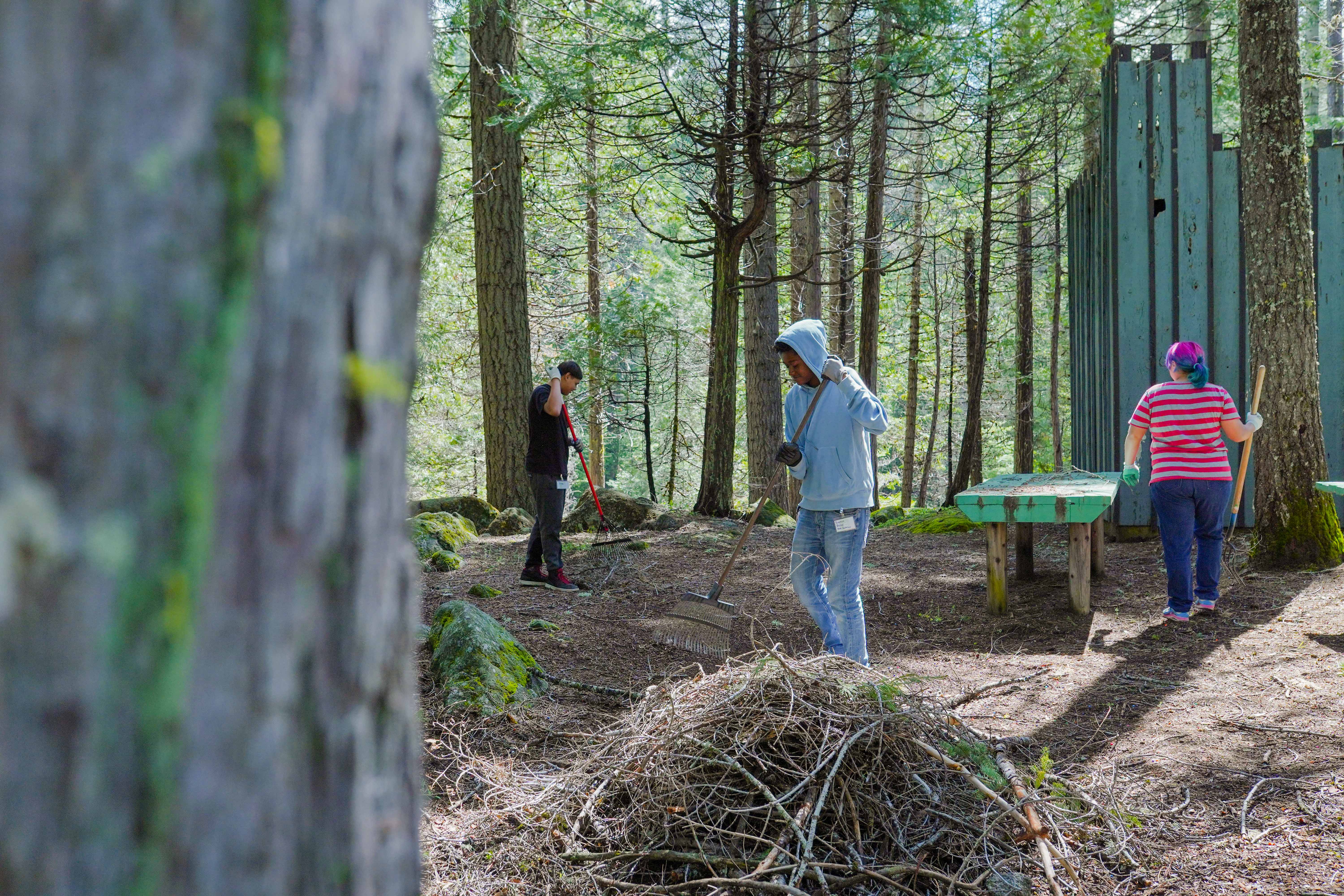 ---
Memorial Day Work Weekend 2019
As the Memorial Day Work Weekend approached, our staff was glued to the weather apps on our phones, wondering if the impending storms would forfeit our projects and plans. Our intention was to tackle the whole of Sherwood Forest - raking, burning, cleaning cabins and bathrooms - to prepare for camp this summer.
"In their hearts, humans plan their course, but the Lord establishes their steps." (Proverbs 16:9) We had planned our course; but the weather was clearly outside our control, forcing us to abandon the outcome to God. (A good reminder to abandon the outcomes even when we are not facing overt challenges outside our control!)
Volunteers began to arrive on Friday night, and the weatherman was calling for 100% chance of rain. We tossed and turned on Friday night wondering if we were going to be able to do all that needed to be done before the rain came.
To our surprise, at breakfast on Saturday morning, the sky was blue and the sun was shining. After a hearty breakfast, 60 volunteers and staff members made our way down to Sherwood. It was so beautiful to see children and adults all working so hard together to accomplish a goal. By lunchtime, we had more than half of Sherwood Forest done.
By late afternoon, we were finishing up the last of the sticks, and the burn pile was finally dwindling down. Others had walked the perimeter of camp, making needed repairs to our fence. Still others had installed a new sink and countertop in the craft condo.
As we loaded up the last of the rakes, pitchforks, and shovels in the back of the pick-up, the sky rolled with thunder. As everyone made their way up to shower and eat dinner, raindrops began to hit the ground. The Lord had truly established our steps.
On Sunday morning, the rain turned to snow, and we all watched in awe as a white blanket covered the ground while we sang songs of worship to the God we love. Despite the wet and cold, our faithful volunteers made their way to the Apple Orchard cabins and bathrooms to clean and prepare them for summer staff. Others set up sewing machines, making rags for the accommodations team. We wrapped up our work and celebrated at lunch all God had helped us achieve.
What a gift to see the Body of Christ come together to serve the Kingdom of God! Our staff was overcome with gratitude for all the people who gave up time and energy to serve Calvin Crest over this holiday weekend. Every single one of these tasks will serve the campers who come this summer, even if they don't realize it. Through their service, these volunteers are a part of impacting lives for all eternity.
As Margaret Mead put it, "Never doubt that a small group of thoughtful, committed citizens can change the world; indeed, it's the only thing that ever has."