During a
5-day program
six of the following seven courses can be taught. In a
4-day program
, four or five can be taught. Courses are chosen by your school.In light of the Railroad Fire, new curriculum is being developed. Contact
Christina
if you would like to see what the new curriculum will be.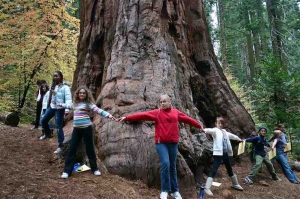 Walk in the Sequoia woods at any time of the year and you will say they are the most majestic on earth" (John Muir). Giant Sequoias are special because they are among the largest and oldest living things on earth. The outdoor classroom for this class is a forested trail that includes giant sequoias that range from young to mature and presents the opportunity to learn about the ecology of the sequoias, man's impact on the forest, our responsibility as stewards, and to experience the immensity and majesty of trees that have been on earth for thousands of years.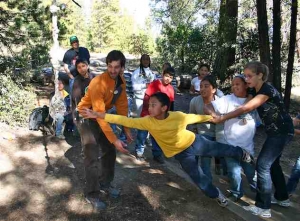 Students will participate in a series of unique physically active and challenging problem-solving scenarios that require leadership, communication, teamwork, trust, interdependence, and cooperation. Skills and strategies developed during Initiatives can last a lifetime.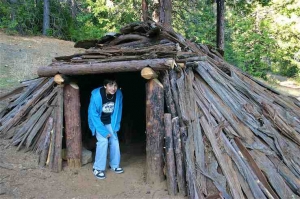 The earliest inhabitants of this area lived quite differently than we live today. Students will visit our replica of a Miwok village and participate in a number of activities that introduce them to the culture and life of these early Sierrans. They will gain insight and understanding into the practices that enabled the Miwok to live in this area for several thousand years.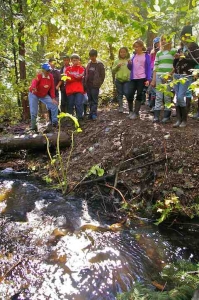 Calvin Crest has a wonderful variety of habitats, each unique in its characteristics. Students will visit riparian, forest, meadow, pond, and chaparral habitats, observing the plant and wildlife species that characterize each. They will learn about the "Web of Life" that accurately depicts the interdependence in the world around us.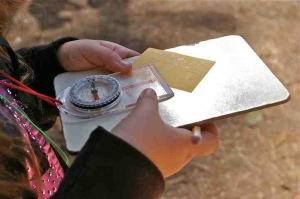 Students will learn how to use a compass to travel from one place to another without the use of signs or maps. The activities in this class prepare them for a mini-orienteering course, during which they find their way through the forest using their compass and the skills they've acquired.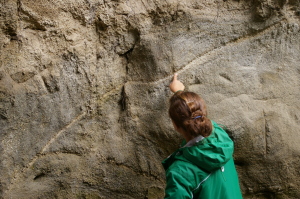 Students will explore a mass wasting site and waterfall to learn about geological processes on earth and observe the impact that water and people have had. They will learn about various topics, including land formation, types of rock, weathering, erosion, and deposition. The lessons in this class focus on the local area, answering questions such as, "Why is the Central Valley so flat?" and, "How does water and rock in the Sierra Nevada affect people living in California?"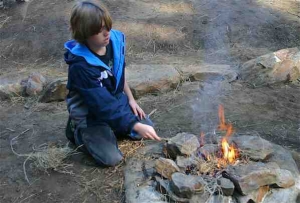 In the survival course, students will discuss how to use common sense and proper preparation to avoid survival situations and how to have a positive attitude in such circumstances, should they arise. In this class, students will learn how to obtain safe drinking water and food, construct a shelter, build and put out a fire, and signal for help. They will practice new skills, including starting a fire, and building a shelter.