---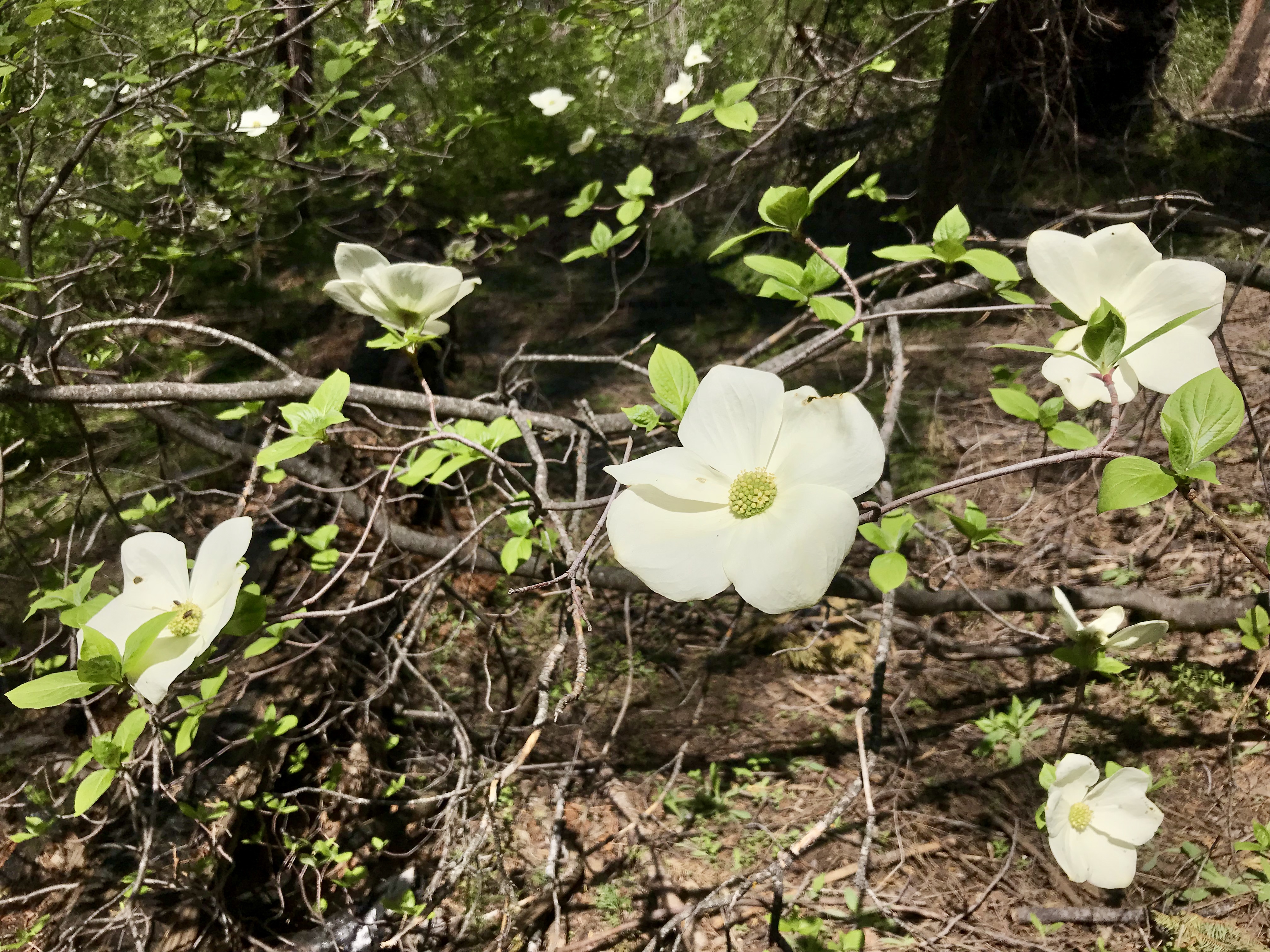 ---
It was Mother's Day, and Cam and I decided to spend the day at Yosemite. In an effort to avoid the thousands of other people with the same idea, we chose a hike at Wawona right inside the park. We had read about the Alder Creek Falls hike, which was supposed to be a beautiful, 3-4 hour, 8 mile hike round trip. Perfect.
We hit the trail and turned on our Kamoot app which tracks our mileage via GPS. It was in fact a lovely, although strenuous, hike. We figured we should come to the 100 foot waterfall about 4 miles in, so we watched for it with eager anticipation. I love waterfalls.
About four and half miles into the hike, we still had not come to a waterfall. At five miles in, we began to wonder if we had somehow missed it. Wouldn't it be obvious? At five and half miles, we came to a creek with a series of small rapids. Was this Alder Creek Falls? Maybe we had misunderstood, and the falls were not a 100 foot drop but instead a 100 feet long?
It was then I had realized our mistake: we had not looked at any pictures of Alder Creek Falls, so we really had no idea what we were looking for. Already feeling squeezed on time, we decided to turn around and head back.
We totally enjoyed the hike back. Hundreds of wildflowers were blooming and butterflies were swarming. It was a sunny but cool day. I commented to Cam that even though the falls weren't what we had hoped for, it's really all about the journey, right? We arrived back at the car after hiking more than 6 hours and 11 miles.
And then I googled Alder Creek Falls and could not believe my eyes. What I saw was a gorgeous rushing waterfall making its impressive 100 foot drop to the forested canyon below.
Vulnerable confession here: I was livid. And disappointed. And frustrated. Why did everything say it was an 8 mile roundtrip hike? Was Kamoot off on our mileage? How close had we come? Was it just around the next corner? Why hadn't we looked at photos before we left so we knew what to watch for?
Cam gently mentioned that it was still a great hike. And he pointed out that we had been completely content when we didn't know what we were missing. And it was all about the journey, right? But now I wasn't buying it. It took the entire drive home to process my frustration and confess my attitude.
Looking back, my Mother's Day hike turned out to be yet another opportunity for growth. And I came away with several applications for my work at Calvin Crest. Perhaps the most important reminder was the critical significance of having a picture - or vision - of what we are working towards, so we know if we are actually hitting the mark or not. Otherwise, we end up wandering down a path, wondering if we are even going the right way, and questioning how we will know if we ever arrive at our destination.
Nancy Ortberg writes in her book, Unleashing the Power of Rubber Bands, "Done well, vision connects to the part of us that desperately wants to be involved in something deeper, something with meaning and significance. Vision releases ongoing energy in individuals and organizations that perpetuates and fuels itself. Vision lifts heads, stirs souls, and taps hearts. It creates and fosters and strengthens and stimulates. It engages passion, which is a profound source of motivation. Vision brings out the best, where before good was good enough."
God has made clear our vision for Calvin Crest. Our overarching vision has never changed since 1964 - We want Calvin Crest to be a safe place where people can encounter the God of the universe in the midst of His creation and respond to His love. Our desire is to see people surrender their lives to Him and become active participants in His kingdom, bringing heaven to earth as He did. We want to see people become intentional disciples of Jesus Christ. As one pastor told me this week, "Surrendering my life to Christ at Calvin Crest changed the trajectory of my life." That is the photo we hold in our hand. Changed lives through the grace of God that result in furthering His kingdom.
Right now, God has also shown us that to get to this vision, there is some rebuilding work that needs to get done along the way. Like Nehemiah, we have work to do to rebuild the walls of Calvin Crest. (Someone asked me last week if we were actually rebuilding a wall at camp when I referenced Nehemiah… no, I meant that figuratively.) So these days, we are forming staff culture, fixing things that are broken, deep cleaning neglected areas, creating or improving processes and systems, purging years of nonessential clutter, repairing broken relationships, and raising awareness about who we are and what we do.
The journey may take much longer than we anticipate, we might have to navigate surprises and debris along the way. But at least we know what we are looking for, and changed lives are even more miraculous than the most spectacular of waterfalls.
---