Retreats & Events
Women's BackPacking Trip
Join us as we venture into the Ansel Adams Wilderness to explore the beauty of God's creation! This backpack is an opportunity to adventure alongside other incredible women, connect with God, rest, and leave your daily routine behind for a few days. Whether you're new to backpacking or you've been many times before, this trip is for you! We'll begin with a delicious dinner at Calvin Crest on Thursday night, along with a brief orientation and gear check. We'll depart early Friday morning for the backcountry, and return back to Calvin Crest between 2-3pm on Sunday. We have limited availability, so sign up now to reserve your spot.
Pricing for this event is $350 per person. There is only 13 spots available in this retreat so book soon!
Registration will be due by September 28th, 2023 at the latest. To register or confirm your spot over the phone, please call us at 559.772.4040 or email us at info@calvincrest.com.
We will send a packing list to all guests and attendees upon registration.
Total Spaces Available: 13
Register By September 28th to secure a spot for the retreat. Space is limited!
Beautiful Trails & Outdoor Exploration
Our goal is to make sure everything you'll need for the retreat is taken care of, from sleeping arrangements, food, gear and more.
Accommodations
Guests will be staying in Cedar Lodge on Thursday night (double occupancy). Guests will being staying in the wilderness Friday and Saturday night during this multi-day backpacking trip.
Meals
All meals are provided from Thursday night dinner at Calvin Crest through Sunday's Lunch. Meals in the wilderness will be prepared ahead of time.
Group Gear
We will supply group gear such as group water filter, stoves, cookware, backcountry permit, bathroom kit, emergency GPS Garmin device, etc.
Calvin Crest Guides
Two of our Calvin Crest outdoor experts will be leading the trip and are Wilderness First Responder Certified.
Transportation
We will be providing transportation from camp to the trailhead. Guests are responsible for their own transportation to Calvin Crest.
Thursday, October 12th

Check in at Calvin Crest from 4-6 PM, Dinner @ 6 PM, Gear check 7 PM

Friday, October 13th:

Friday, October 13th: Depart for backcountry, enter Fernandez TH

Saturday, October 14th:

Backcountry!

Sunday, October 15th

Exit Backcountry, and arrive back at Calvin Crest between 2-3 PM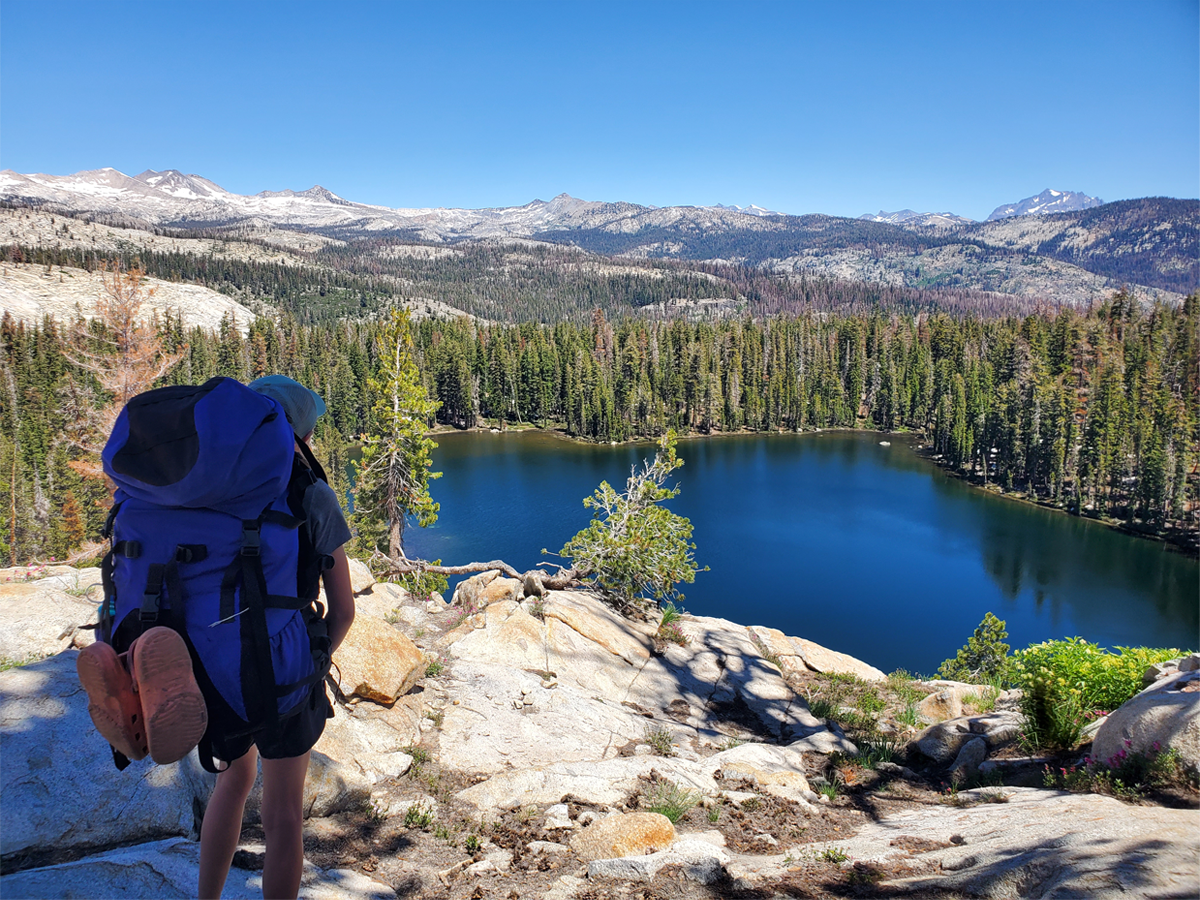 We will be backpacking in the Ansel Adams Wilderness from about 7,500'-10'000. There are well established trails that we will take to our destination. Depending on the desires and ability of the group, there may be optional cross-country exploration or a summit hike. No previous backpacking experience is needed, however, you should be able to hike 4-6 miles at elevation with a 30-35lb pack. If that sounds daunting, we are happy to talk with you about some training tips and how to best prepare.
Have Questions? Get In Touch.
If you have any questions regarding this event please contact Taylor Staman or Haley Woods. Additionally, you make call us at 559.772.4040 or email us at info@calvincrest.com.
Need Extra Supplies?
Think you need additional gear or supplies? Email us to make sure we can help you and so we don't double pack.
Trip Support
Our team will do their best job during the trip to make you feel welcomed and supported. Whatever you need during the retreat, let us know and we will do our best to accommodate you.
Trip Follow Up
If you need information, photos from the retreat, or want to go on more adventures with the Calvin Crest Guides, reach out to us and we'll get you what you need.