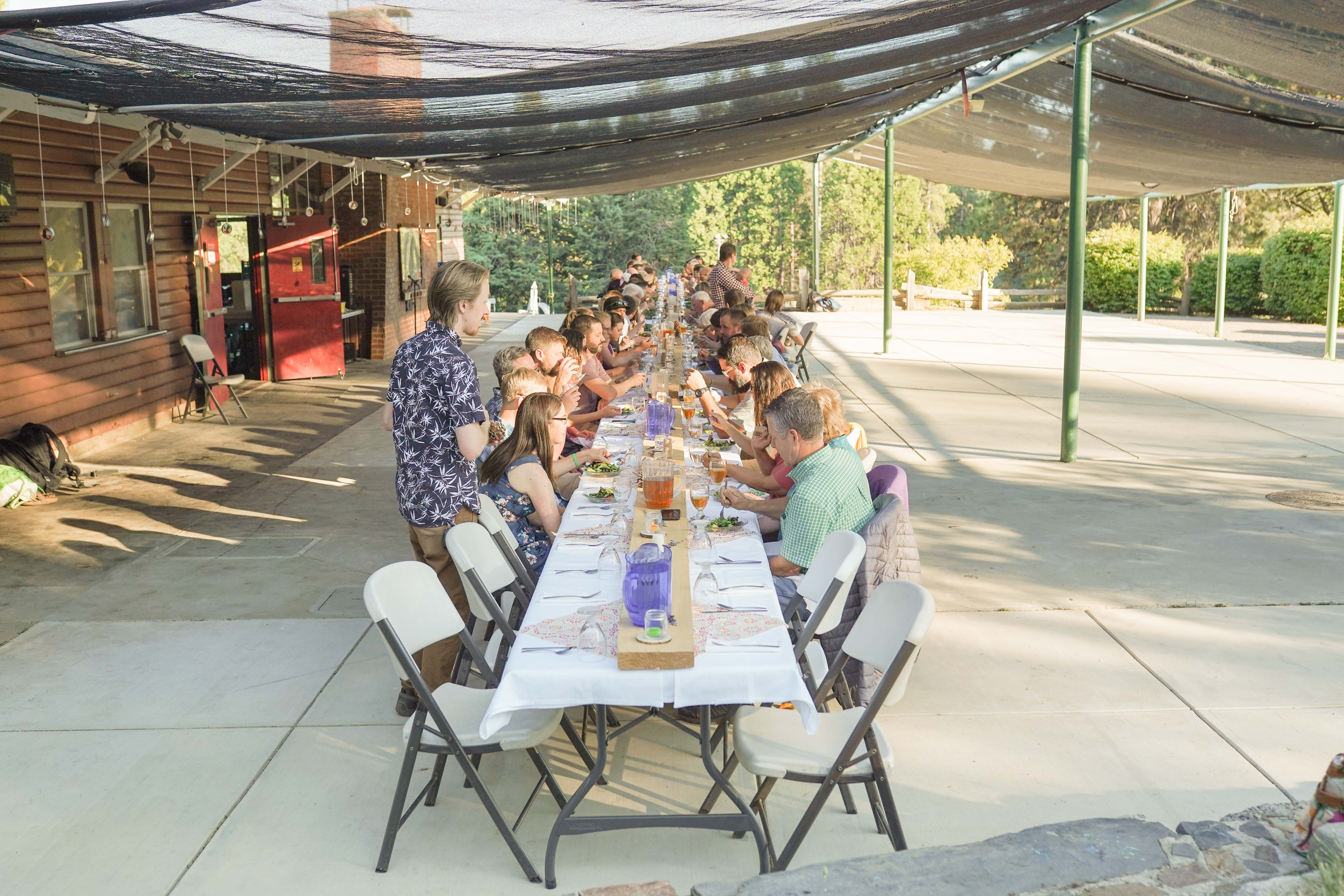 2019 Family Camp Recap
---
In her great wisdom, Mother Teresa once stated, "If you want to change the world, go home and love your family." Last week, we gave families a chance to go to camp and love their family at our eagerly anticipated Family Camp.
Nearly 200 adults, children, and child care assistants descended upon Calvin Crest. The joy was undeniable as old friends reunited and brand-new faces were welcomed. I was one of those new faces, meeting so many long-time lovers of Calvin Crest for the first very first time.
If you've never been to Family Camp, let me tell you: each day feels like a week (in a good way). The days are packed full of delicious food, lots of singing, children and family activities, free-time options, milkshakes, opportunities for spiritual growth, theme nights, campfires, and late-night games. I'm not sure who originally came up with the idea for Child Care Assistants, but what a brilliant idea! Each family is assigned a CCA (or two or three) who helps care for their children all day long so that parents can get a break and relax a little. I would have loved that when my kids were young!
Children, parents, and grandparents alike hiked the forested grounds, splashed in the pool, slid down the flume into the lake, paddled boats, screamed on the giant swing, faced their fears on the aerial adventure course, courageously climbed the rock wall, created beauty in the craft condo, and whizzed down the zipline.
A few highlights? One of our theme nights was Dancing Through the Decades. Family campers came creatively dressed representing a past decade. Following dinner, a dance party commenced in which we danced to some of the most popular songs of the decades. People from 2 to 92 sang, laughed, danced, and filled the air with gladness.
At campfire which followed, we were led in singing the most popular campfire songs from the decades. As I instantly recalled, "It only takes a spark to get a fire going…" and "Love Him in the morning when you see the sun arising…" (complete with arm motions – you remember them!), and "Have you seen (have you seen) Jesus my Lord?" I suddenly felt very old as the millennials around me were absolutely clueless. Such fun.
During the adult sessions, Luke Hyder and his sister, Abby Barrantes, led us all before God's throne in worship. Calvin Crest-ers are not shy about singing with gusto, and the times of worship were awe-inspiring to say the least. Rick Lemberg, of Sierra Vista Presbyterian Church in Oakhurst, spent each morning teaching us about the Kingdom of God. Expounding on the stories of the Prodigal Son, the Good Samaritan, Paul's Household Codes, the Blind Beggar, and Zacchaeus, Rick wove the beautiful thread of how the God's upside-down Kingdom is built on grace, love, and forgiveness. Rick has such an incredible gift of marrying historical and biblical context with humor, humility, and practical application, and he left all of us wanting more… more teaching, more of Christ, more of the Kingdom of God.
It was fitting to end the week with a feast at one ginormous banquet table followed by a celebration of the Lord's Supper. It was a beautiful picture of the Kingdom of God – people from so many different backgrounds and places, many of whom had never met before this week – enjoying sweet fellowship around the table simply because of our bond in Christ.
Many families told me this week is the highlight of their year. One family wrote, "We had such an amazing week. We can't thank you enough for providing this place for us to focus on family time and experiencing God! Thank you for pouring into us as adults and for loving and pouring into our children!"
I am incredibly grateful for our entire staff team and particularly Christina Melahn, who thoughtfully organized and led Family Camp. What a privilege for us all to spend this week with each one who attended. My heart is full at being welcomed so warmly into this family; please know that there is still plenty of room at the table for you and yours. My prayer is that everyone gets to experience this at least once, although I must warn you: you might get hooked!