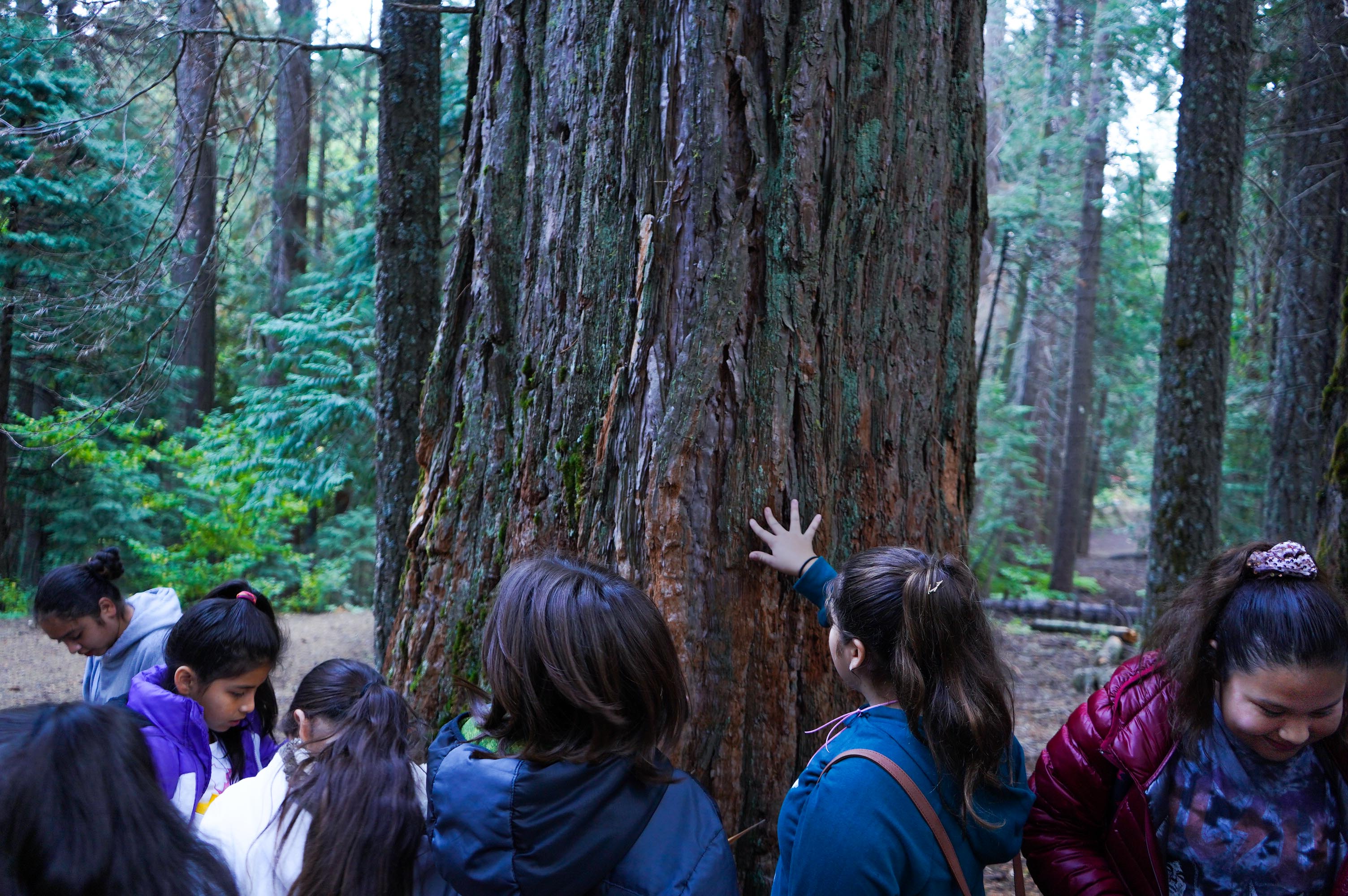 Lessons from the "Range of Light"
Parents
Your school is preparing for outdoor education provided by Calvin Crest Conferences. Your administration, teachers, and the Calvin Crest staff want your child to have a safe, fun and educational experience while attending Calvin Crest's outdoor education program. Calvin Crest is located approximately one hour north of Fresno and Madera (20 minutes north of Oakhurst), east of Highway 41 at an elevation of 5,000 feet. There are housing, dining and recreational facilities on site. Each cabin is heated and equipped with bunk beds and mattresses. Bathrooms have private restroom and shower stalls and multiple sinks.
Oakhurst is equipped with 12-hour/day medical services. In the event your child becomes ill, or is injured and needs medical attention we will make every effort to contract you as soon as possible. Please note that the student's family insurance plan is the primary source of coverage for an accident occurring while the student is attending the program at Calvin Crest.
If there is an emergency at home and you need to visit or call your child, please notify Calvin Crest, at 559.772.4040, and the school. We will do what we can to make the necessary arrangements to meet the needs of the situation.
Outdoor education is not the only learning that takes place. Social growth and maturing occur as well. As this is a week for the students we do not encourage parent visits. We also discourage phone calls as hearing a parent's voice can bring on feelings of homesickness. We strongly encourage you to write to your child at least once or twice during the week. Instructions for sending mail and packages are below.
---
What to Pack
The weather at Calvin Crest is often unpredictable, and nights and mornings are always chilly. There is also occasional rain and/or snow. Therefore, if possible, it is important that your child have sufficient warm clothing and good shoes. Please follow the guidelines on the enclosed equipment/clothing list. We do have an adequate supply of rubber boots available for student use at no cost, and we have a limited number of rain ponchos for sale at our cost in our student store. Please watch weather forecasts on television, or you can check the weather link below for current forecasts.
Sending Mail/Care Packages to Your Students
All mail to student should be addressed as follows:
Student Name
School Name (i.e. Abby Smith, Oak Creek)
c/o Calvin Crest Conferences
45800 Calvin Crest Road
Oakhurst, CA 93644

---
Please include your return address on every piece of mail, including post cards, so that the mail can be returned to sender if it does not arrive in time to be delivered to your student.
All care packages should be scheduled to arrive no later than the day before your student leaves camp.
For timely delivery, we recommend sending care packages through UPS and FedEx.
Please note that because we are located in an isolated area most delivery companies do not guarantee overnight or second-day service, even if you pay for it.
Please do not send any mail or packages that require a signature.
---
Camp Store Information
Care Packages are available through the camp store. To purchase a care package, please follow these online ordering instructions:
Go to calvincrest.com and click on SHOP in the top right corner. Items are clearly priced and categorized in three categories: Apparel, Drinkware, and Souvenir.

Pick the items you would like to purchase and add to your cart. Be sure to choose the color, size, and quantity you want.

When you are done shopping, click on your cart and "Proceed to Checkout."

If you are a new customer, register or you can check out as a guest.

Fill out all required fields, and select "Ship to this address." (Input your own address even though your order will NOT be shipped).

When you go to the Next Step, select "Pick up at Calvin Crest."

For the Payment Method, select "Pay securely with Lightspeed Payments" and enter your credit card information. Be sure you enter the zip code of the billing address for your credit card.

On the final "Order Review" page, please indicate in the COMMENTS box your child's name, what day you want it delivered, and write a note to be included in your child's care package.

Click the bottom box agreeing with our general terms and conditions.

Click BUY. We'll fill your order and deliver it in the next 24 hours.
If you have questions, call (559) 772-4040 between 9:30am-5:00pm during the week that your student is attending the Outdoor School.
---
---
Store Use During Free Time
Gift items, t-shirts, sweatshirts, souvenirs, snacks, and beverages may be purchased in the Camp Store. All money is collected upon arrival and is placed on account in the store. Money that is not spent at the end of the week will be returned to the student the last morning when they will have one last opportunity to shop.
---
Store Guidelines
Please send your student with cash in an envelope or zip lock bag marked with the student's name and amount of cash.
Any amount of money is acceptable. You may view our online store for an idea of how much products cost.
We are unable to accept checks. We appreciate your understanding.
Please do not pack student's money in their luggage.