---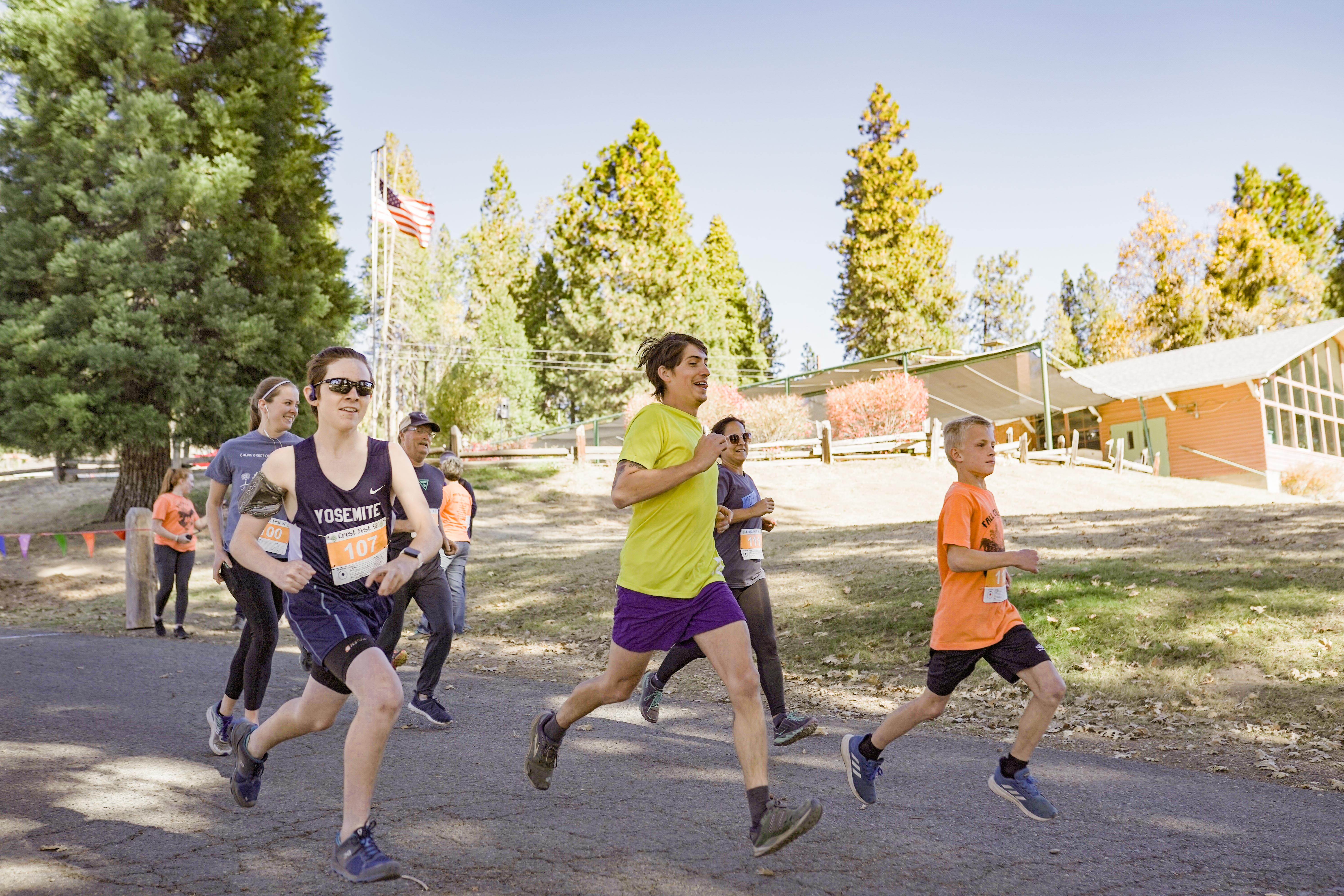 ---
First Annual Fall Crest Fest a Success
---
Thanks to everyone who came out to our first annual Fall Crest Fest at Calvin Crest! The weather was perfect for our morning 5K trail run, which allowed runners to experience all the iconic landmarks at Calvin Crest, including Sherwood Forest, where Maid Marian and Robin Hood were waiting at the Redingham Stump, along the lake, through the Apple Orchard and Miwok Village, and along Sugar Pine Road. The run was no easy feat as runners navigated an impressive 481-foot elevation gain along the way. First place finisher, Nathan Gist, had a time of 26:15; second place finisher, Samuel Sloas, had a time of 27:56; and third place finisher, Keegan Biedermann had a time of 29:40. Leslie Lescalie was the top female finisher, with a time of 30:26. Congratulations to all who ran this challenging but beautiful trail!
As the day progressed, young and old alike came out to face their fears on the aerial adventure course, fly as high as the trees on the giant swing, climb the rock wall, and whiz down the zip line. Every half hour, hayrides full of families toured slowly around the campus with fun music provided by Sylvia Sloas. Many completed the Rustic Painting Project as they created unique signs on wood from the old Vesper benches, which hold a special place in many hearts. One of the most popular attractions of the day was the very old cider press, where guests could press their own apple cider to take home with them. All the while, the front pad was filled with the fantastic sounds of Yosemite Jazz Band followed by the cool tunes of Emily & Zed. Fresno's Hi-Top Coffee served hot drinks while people played corn-hole toss and lawn games and visited with friends, new and old.
Before dinner, our panel of judges, including former Executive Director, Rick Harrison, and current board members, Ginny Harrison and Sylvia Sloas, judged the eight delicious entries in our Best Chili Cook-Off. While all eight were amazing, some edged out their competition. Tying for third place was Christina Melahn and Kirsten Gist; in second place was Katie Palmer; and taking the grand prize of a Calvin Crest Sequoia Bear was Mary Dodge, who won with her White Bean Chicken Chili with homemade fry bread to go with it. More than 150 people stayed to enjoy the chili dinner, where three lucky winners of the raffle also took home Calvin Crest Sequoia Bears.
Following dinner was the homemade pie auction. Nine beautiful pies were donated, and every single one sold in the auction. The highest selling pie was Sylvia Sloas' Homemade Apple Pie with Sea Salt and Caramel topping, which after an intense bidding war, sold for $125. The evening closed with a foot stomping campfire with music by Sylvia and Maddie Sloas, Joel Gist, and Austin Pearson on harmonica.
More than 250 people came throughout the day to experience Calvin Crest – many for the very first time. Some indicated that they had seen it in the newspaper or on posters around town, while others received the flyer that came home with their children from school. And then, there were those who have been coming to Calvin Crest for decades. One woman hadn't returned to Calvin Crest since she was a camper 30 years ago when she was baptized in the swimming pool. The stories were rich, and they flowed all day long. It was a reminder of why we do what we do and the long, impactful legacy of this place we call home.
We are so grateful for our sponsors who helped to underwrite this event, making it possible to be free to the public: Coldwell Banker, Alphagraphics, Wild Fig Kitchen, Macaulay Insurance, Mountain Muscle, London Properties, Steve's Pet Shoppe, and Bryant's True Value. And thanks to everyone who came out purchase pies, raffle tickets, and sequoia bears and who made donations to Calvin Crest. You all make our work possible! We are looking forward to growing this event into a fall family tradition for years to come.