Retreat Theme: Eikon
The Greek work eikon means "image", and is used in the New Testament to describe the relationship between Jesus and his followers. We will take a look at how Jesus is the exact image of God, and how His disciples are called to be transformed into the image of Jesus.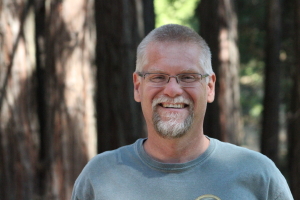 David has served in youth ministry throughout California for more than 30 years (how is that possible?  He looks so YOUNG!).  During one stretch of ministry service in the central valley, he got the opportunity to speak at a Junior High camp at Calvin Crest and was hooked!  Over the next few seasons he managed to get himself invited back to camp to speak to the  High Schoolers and College aged campers, too.
In a desperate attempt to become the Director of Ministries at Calvin Crest, David padded his resume by working at a variety of small and large churches, put in some hard time at denominational administration, and even earned a Doctor of Missiology degree from Fuller Seminary.  He still can't believe it worked!
David pulled off one of the greatest coups of all time when he married his wife Lucinda in 1987.  They have three beautiful daughters, one cool Subaru Forrester, some old furniture, and a very impressive comic book collection.
Must be a high school graduate to enroll. This retreat is intended for 20-somethings, young adults, and college students.
Check In: Friday 4 – 6 pm
Check Out: Sunday after Brunch
Worship

Hiking Trails

Milkshake/Espresso Cafe

Praying in the New Year

Dance Party!

Sledding (if there is snow)