Help us reach our goal of raising $75,000!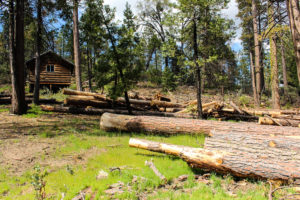 This money will be used to offset the cost of tree clearing and removal. How to donate:
1. Write a check. Make checks payable to Calvin Crest Conferences and include "2017 Tree Expenses" on the memo line.
2. Donate online by clicking the button below, and select the "Tree Removal Fund".
$125 funds the removal of one tree.
$250 funds the removal of two trees.
$375 funds the removal of three trees.
$500 funds the removal of four trees.
We need your help with tree removal!
Calvin Crest is dealing with immense devastation from the drought and the onslaught of the bark beetle. Our ropes course is no longer operational, the trees that provide shade for Cedar Lodge are gone, and the landscape has been forever changed. Hundreds of trees still remain on our grounds and we are looking to remove them and begin planning for the future.
Frequently Asked Questions